Sculpting and Casting a Resin Statue
Using Sculpey, Armature Wire, Acid‑Etched Brass and Rubber Molds
Chapter 2: Using Armature Wire
There are a lot of ways to work with clays or wax and certainly Sculpey, with or without an armature. But Dan Perez'* advice made so much sense that it seemed the only way to go. He has good, solid recommendations about mixing Sculpey with Super Sculpey to get a sort of a gray material. What you end up mixing is the equivalent of making use of paint primer to check on your model surface finish. You can see the surface better than either material alone.
The armature is one of those things that seems mysterious until you just do it. I've seen many single-strand aluminum wire armatures, but Perez's method is truly superior. He recommends using a loop of aluminum wire, with one end held tight say, in a vice—and the other end chucked in a drill. Slowly wind up the wire to form a very tough but flexible braid. Very useful.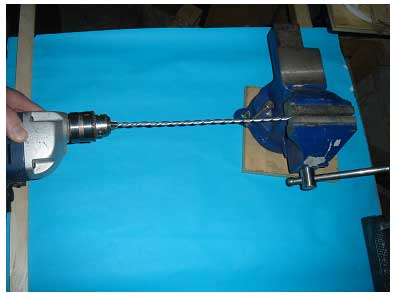 This is 1/8" aluminum wire, used for the body. I used thinner 3/16" wire for the arms and short lengths for the head and neck.
Now to chop it up and make a little pedestal to work on.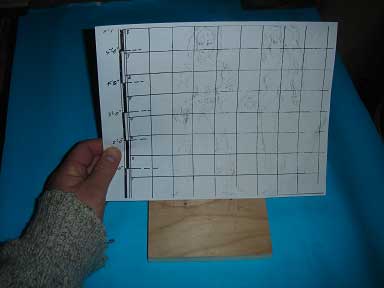 I blew up my sketch to finished size and placed Shaundra's feet on the plywood base. I drilled simple holes for one strand of the armature wire to slip in.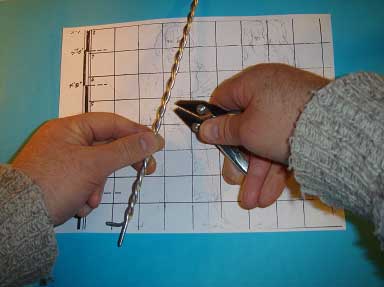 I used a very nice pair of parallel-jaw pliers to shape the braided wire in the general shape of the sketch. Note the single strand pulled out to be inserted into the base. A long time ago, I went a little crazy and got almost every kind of jewelry-working pliers known to man. Nippers and flat jaws, shaping jaws—quite a variety. I have used them all at one time or another and I feel quite justified in being regarded as such a good customer, that Constantine's sent me a Christmas card!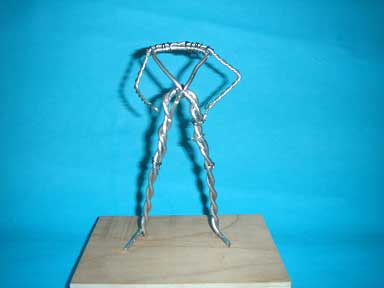 Note the use of very thin 1/16" wire to tie everything together. Not just the body and torso and shoulder parts, but the longer runs of braided wire too.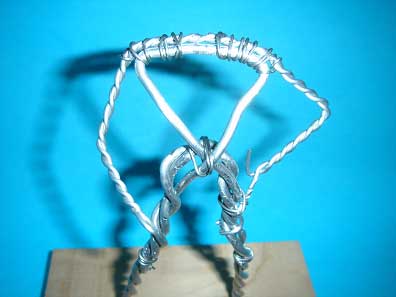 And a little closer look…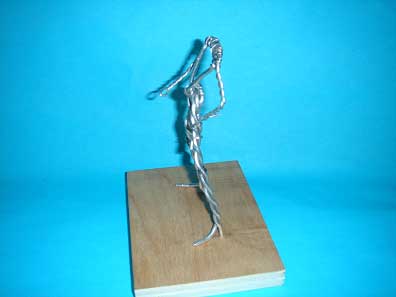 I tried to come pretty close to the pose I wanted at this stage. I wondered how "flexible" my design might be at later points of the sculpt. I found out…
---