EMP Test Stand - Marvel Comics, The Iron Manual, 1993, Page 7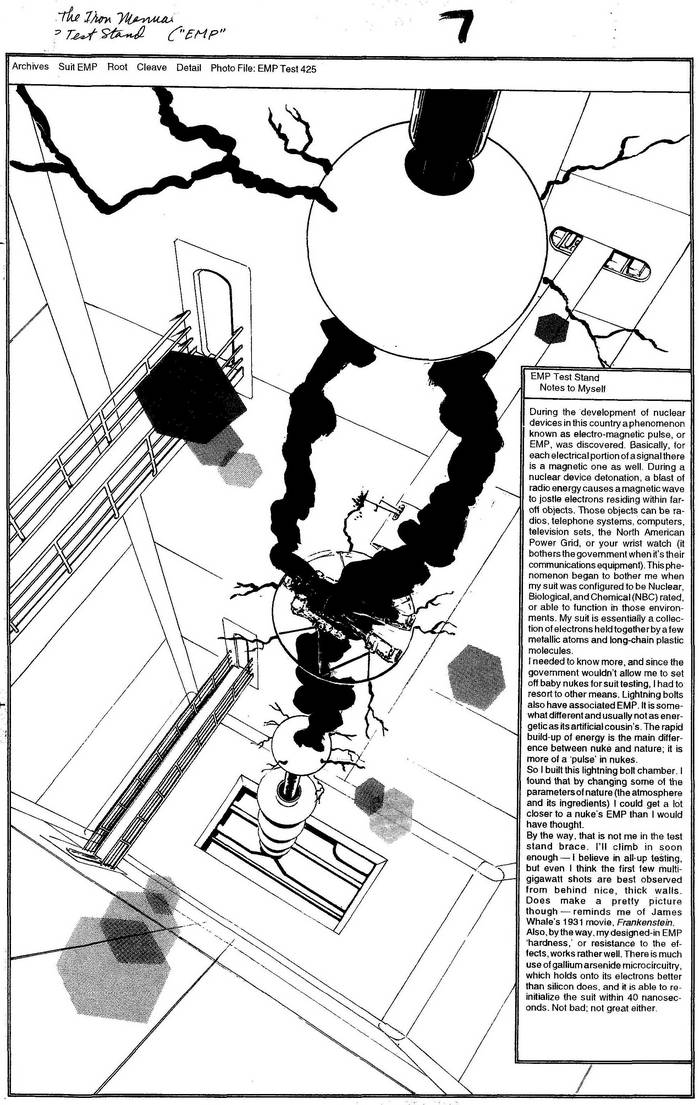 EMP Test Stand - Marvel Comics, The Iron Manual, 1993, Page 7
From Iron Man's Iron Manual Page 7:
So I built this lightning bolt chamber. I found that by changing some of the parameters of nature (the atmosphere and its ingredients) I could get a lot closer to a nuke's EMP than I would have thought.
By the way. that is not me in the test stand brace. I'II climb in soon enough. I believe in all all-up testing, but even I think the first few multigigawatt shots are best observed from behind nice, thick walls.
Does make a pretty picture though — reminds me of James Whale`s1931 movie, Frankenstein.
Also, by the way, my designed-in EMP 'hardness,' or resistance to the effects, works rather well. There is much use of gallium arsenide microcircuitry which holds onto its electrons better than silicon does, and it is able to reinitialize the suit within 40 nanoseconds. Not bad; not great either.
This work is on this page as part of an online portfolio of my work. This work is copyrighted © to Marvel Comics. No infringement is intended and no one but the copyright holder may download these images or reproduce them in any way without the express permission of the copyright holder. Do not copy.