Mark Gruenwald Remembered Some More—Part Three
This post currently has no comments.
[Special Thanks: I am greatly indebted to colleague and chum, Carl Potts, who secured Mark's "Daily Desk Blotter" from Catherine, Mark's widow, and scanned the whole damn thing! Then making it available to me.]
Cheeses Saves!
Mark came from the center of the Cheese Universe according to him, Madison, Wisconsin, which he felt was a place to escape. He loved comics as a kid and never lost that love. When he was in college, he actually created a Wisconsin-based superhero Augmento and drew several months of story for the college newspaper. Which was based in The University of Wisconsin-Oshkosh, in Madison… or "U-Wisc-O-Mad" in Gru-speak!
Augmento advert! Art by Mark and William Bukowski, © (as of now) The Mark Gruenwald Estate. What kind of super-hero was this Augmento? Oshkosh's first and perhaps only super-hero? I don't know. Mark did not include any "tear sheets" of his newspaper strips. Neither did he ever mention it!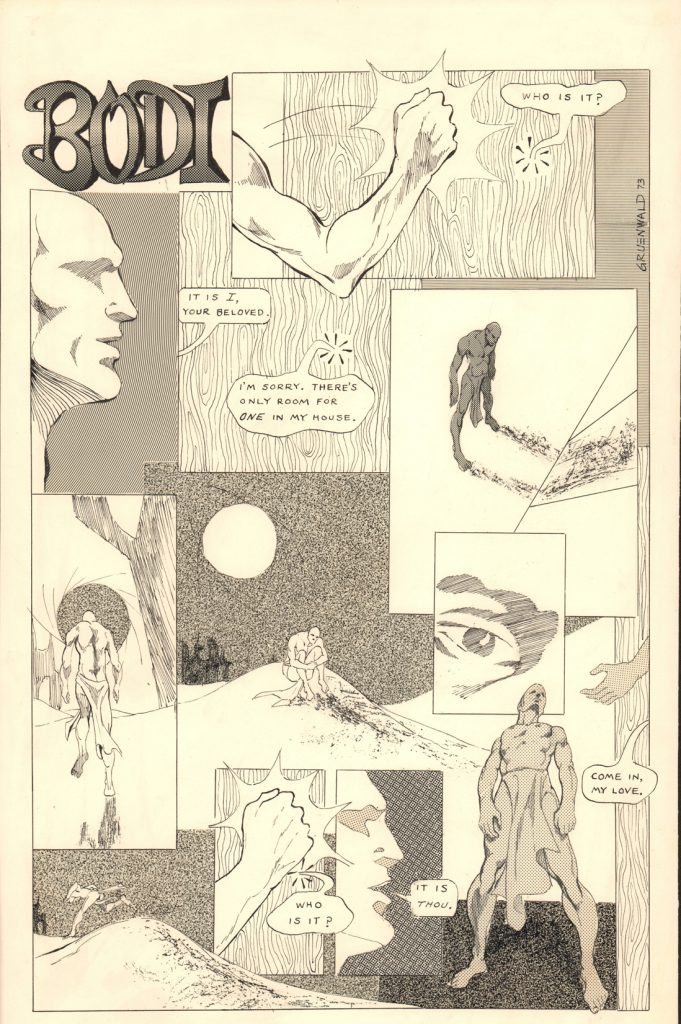 Mark was grit-toothed aware of the limits of what adults could do in comics. Physically as well as relationally. Especially when he became a pro. But before that—here in 1973—we see him exploring his un-honed creative instincts. That and a variety box of Zip-A-Tone graphics film! No idea what "Bodi" was intended for. The only clue is that it is very close to comic art-size. Eventually he came to invest Hawkeye with a serious girlfriend; Captain America too.
For any early comic-lover, New York City was the place to escape to! For much of comic book history, NYC was the locus of all things comics. Editors, publishers and most of the artists and writers that worked in comics lived there. That was still mostly true till only a few years ago. But back then, in 1976, moving there was the only way to break into comics. Mark had visited the city for a brief, frustrating and short period of time. I can almost see the younger Mark plodding the streets, saving his subway fare money for food and comics. But that time was not right. Rather quickly, he had to retreat back home. He took several small jobs, saved up and decided it was time!
On that second trip to NYC, (May, 1976) he got his first apartment (with a fellow Wisconsonian, the late Bill Poplaski, who had pioneered his way to the Met Opera as a literal spear-carrier) and he struggled to make his money stretch ("starving" as he put it!). He often dined with an extended group of Wisconsin ex-pats. During Creation Con 1976, at New York's Statler Hilton, he actually met Paul Levitz who was DC Comics' Editor In Chief and interviewed him. Because he was able to chat easily about the DC characters and storylines, Levitz must've been impressed. That got Mark's foot in the door. In fact, on his first trip to NYC, his first comic appointment was at DC. He ran into legendary editor Julie Schwartz who told him his ideas were not "commercial" enough…
On this luckier second trip, Mark got a freelance proof-reading job at DC, thanks to Paul Levitz who remembered him. He was writing some kind of Justice League history for Levitz, so somewhat more of his leg was in the door. What a different world comics would be, if Mark had gotten a staff position at DC first… It may not come as a surprise that Mark had a full run of both houses of comics!
While visiting the DC offices, he met Denny O'Neill and many other writers and editors. He also "crossed the pond" to visit Marvel's offices and apply for a job where he met Archie Goodwin (then Editor In Chief)—people he had met on the convention junkets. When he visited Marvel he ran into Ralph Macchio. Ralph and he would become not just close friends, but one of the most obscure yet most cultish writing team in that their work is still discussed today. That was to happen later, as there was no position quite available then.
There was simply not enough of this infrequent DC freelance to pay his rent—even with a roommate. His devoted parents sent some cash. Eventually, he had to become a "Kelly Girl." This was a "temporary worker" agency that had to go co-ed! That served to get him into a bank who rapidly hired him as the head of the Filing Department! Mark's longest non-comic employ was as a bank teller, about a year.
He finally had a steady income which allowed him to create a comic fan magazine or "fanzine." He did it all himself. Now Mark could draw… badly. When comic artwork is made, it breaks down into two big fields, pencils and inks. Mark could do neither very well; which he knew. Comics needed a dense, black line so that the printers could get a strong line to print, such was the technology. Most of the great, personal fights in comics are about a penciler not following the writer's storytelling words, or the inker overwhelming the penciler's work or the inker not being good enough… lots of all that! Thus, Mark chose to ink himself only when he could not afford a real comic inker. But he could write. His later, major fanzine Omniverse #s 1 & 2 are still sought after. There was supposed to be a #3, but I only set a little type, worked on the boards and never saw a printed mag.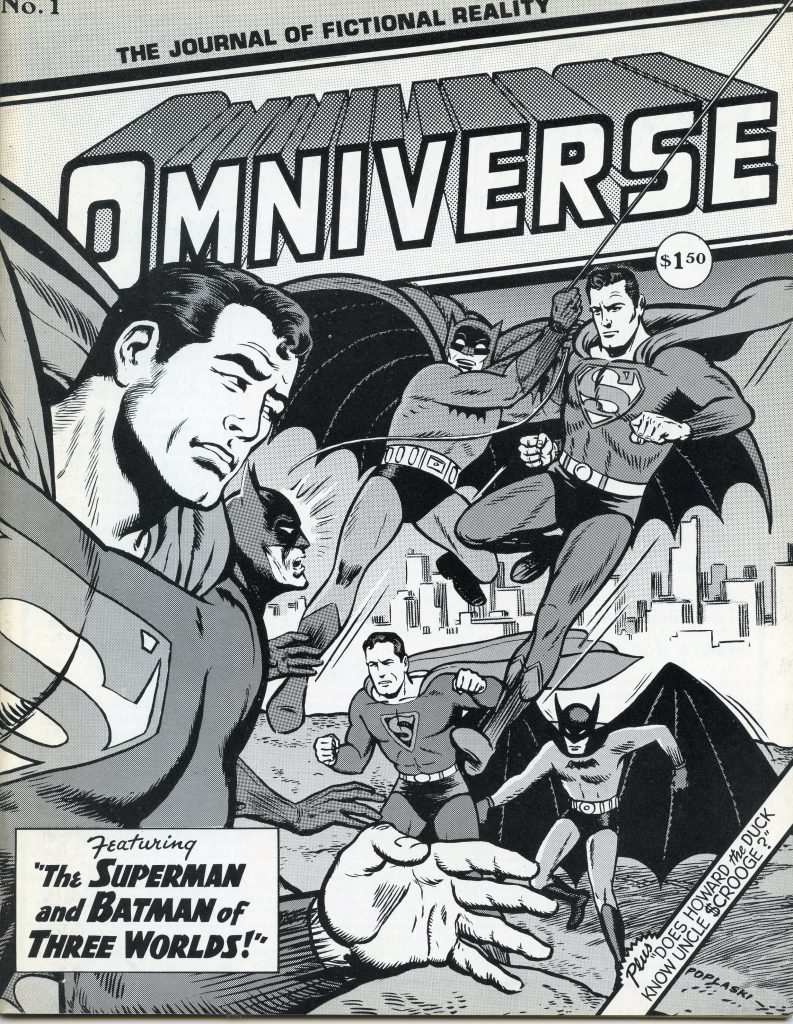 Omniverse Magazine—The Journal Of Fictional Reality, issue #1. Cover by Pete Poplaski. ©Alternity Enterprises/The Mark Gruenwald Estate.
Down The Swirling Time Tunnel…
A technical note on Marvel's office organization. In the beginning, there was Stan–! Well, I went back too far. The Bullpen went through many changes over the decades. Stan got on staff (never mind how you can read about that elsewhere) then almost immediately went to war. But he came back having waged a war of words against the Axis Powers (Stan had been an ad man and worked well in the Signals Corp writing newspaper articles) and then proceeded to work in comics for real. In 1945, there was no real organization to gather people, stories and artwork together. It seems like it was Stan who worked up the system of room-fulls of talent that became The Bullpen. There were entire rooms devoted to holding the artists and writers, who did the work right there! It was Stan who apparently handed out the work. The artists and writers were paid for whatever part of each page completed. Decades pass… The Bullpen was a much smaller number of people, the offices had moved around. At one point, Marvel as we know it, was much reduced, "down-sized," leaving behind a skeleton crew. Magazine Management, who owned a bunch of magazines as well as Marvel Comics was ready to shut down the money-losing entity. Apparently comic-sales "rack space" was devoted to the printer's schedule back then. If there was a space assigned it needed to be filled. That's when Stan pulled his last-ditch, what-the-heck play, writing the famous group of mags back in 1963-ish—an account of Marvel's history that has been recounted by Stan The Man himself—a Living Legend. At 93 as of this writing, a Living Fossil! Well, I love Stan and he has done amazing things over 75+ years.
Speaking of 75 years…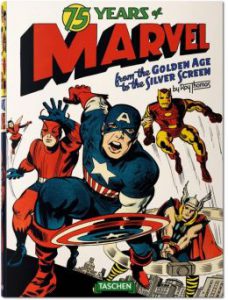 ISBN-13: 9783836548458
Buy this book! Roy Thomas wrote it and he's about as knowledgeable about those 75 years as anyone alive—including Stan, who has a terrible memory. This book supplants the lighter-weight Five Fabulous Decades Of The World's Greatest Comics Marvel. Roy's book is engagingly written and much more even-handed. Hey, I contributed to both of them so I can be brutal… There's a lot more weight to Roy's book, extraordinary reproduction of very nice comic material—but—if you are a True Fan, you might wish to have FFDOTWGCM, below, just for the pretty pictures!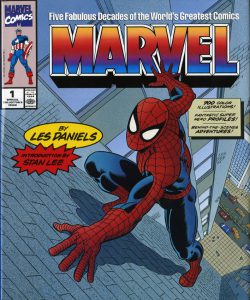 ISBN-10: 0810938219
ISBN-13: 978-0810938212
But—back to 1977! Mark had gone into business with a friend (Dean Mullaney) to produce Omniverse Magazine. He made sure to get a copy in every editor's hands on both sides of the biz. Young Jim Shooter, then brand-new Editor in Chief at Marvel (in a complex parade, Jim was assistant to the afore-mentioned Archie, who departed), liked what he saw and invited Mark in for an interview. Shooter had just reorganized The Bullpen so that so-called "Creator/Editors" would not have the unfair advantage of having an office from which to assign work to themselves. There were also nothing but Assistant Editors, with Jim riding herd on all of them. So Jim decided to make some of them Editors and hire more Assistants… [of course it's much more convoluted than that, but this is how Mark arrived at the right time… –Chrome Dome Brown] …Mark had found his home. When not counting out other people's monies or "filing" it, he was eating, breathing and living comics. Now he could do it professionally.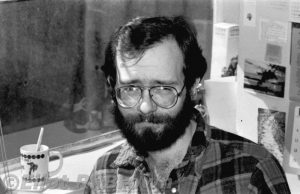 One of the earliest pix I have of Mark. Some time in mid-1979 and at Marvel's 575 Madison Ave offices. No; they didn't give those coffee cups away. We had to steal them.
End of Part 3