Herb Trimpe
This post currently has no comments.
May 26, 1939 – April 13, 2015
Just this Saturday, many friends and family of Herb's gathered at St. John's in Kingston to say farewell. Herb Trimpe had passed only a work-week before. Herb was a relative picture of health, the rug-underfoot-yank sensation is still fresh. I do not like church services but I was immediately alerted to something different in this one. The fellow in the ceremonial robes introduced himself as the Bishop Of New York.
We in the world of comics were not especially surprised to learn that Herb had become a Deacon in the Episcopal Church. Herb was worldly and other-worldly… well, you had to know Herb a little. But what we did not know was that the Reverend Deacon Herbert W. Trimpe had served as Chaplain for many months after the attack on the World Trade Center in lower Manhattan on September 11, 2001.
I could not imagine the internal strength needed to view with composure, the individual victims of that day. But my buddy Herb had it. He served as Chaplain for all, offering solace to the victim, or their family or just the people in and around the site. As sacred a soil as America has as any. He kept a daily diary of his experiences and wrote a book from them: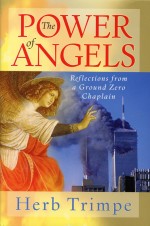 Very well written, an easy read. I thought it could have been twice as long. Here are the numbers in case you want to get your own–
ISBN-10: 0972432728
ISBN-13: 978-0972432726
This guy, this Bishop of New York, this is "The Man" and here he is eulogizing one of us. That was different by a lot.
In the church service, Bishop Dietsche, as it turned out was an artist and had contributed cartoons to church publications. So he was one of us "comic bums" just a lot more serious. Then he spoke of Herb's work at Ground Zero. That was moving enough but Bishop Dietsche zoomed out a bit to include all of Herb's work as a ministering. That he was reaching out to all who had read his comic work, all over the world and through all the time of his work. That comic work, Herb's work, could inspire, uplift or reach out to his audience as a ministering, was a very touching and moving idea to me.
The Bishop went on to say that the work done at Ground Zero had changed Herb. That he ceased to practice as a Chaplain after that. Still the Bishop and those in charge did not stand him down. The Bishop was quite clear that Herb is still a Deacon.
To us in comics, he is still a comic creator.
Then came the dreaded 23 Psalm. I had become sensitized to the words, all of them, at a service for Morrie Kuramoto. I could hardly bear to hear them again said over another friend.
Thinking About Herb
My buddy Herb died about a week ago. He attended a big comic convention just a few days before he died. Herb was always surprised that anyone gave two finger-snaps about what he did in the past. He would exclaim, these guys know more about what I did than I do! That's comics for you.
I got to know Herb as a fan, as I was growing up. Herb drew, for me, the definitive Ant-Man (his Egg Head is still a comic book paradigm). He got those crazy ants just right, looking and acting like willing horses. Old Hank Pym was in good, er, hands. Everyone around Marvel knew Herb even though he lived in far off, exotic Kerhonksen (upstate New York! Pretty exotic to a midtown Manhattan kid…). He started in the Bullpen when it was small; in fact he ran the nightmare contraption Photostat camera that was just barely still in use when I started in comics.
Herb had done comics as a pro… Kid Colt one year, Godzilla, Iron Man, G. I. Joe following that, pretty much anything. As mutual friend, Jack Morelli would describe him, he was a "ham and egger." One of the generally talented people who could do anything. Marie Severin, supremely talented lady of the Marvel Bullpen, had taken the time to nurture and guide his raw talent. Something he spoke of with genuine love. Marie told of the extreme fun she experienced while flying in Herb's Stearman bi-plane.
 When I got a chance to hire Herb it was not as a fan; not as such. Herb and I connected while talking about the past. Perhaps it was my old boss, Editor Louise Simonson who suggested Herb as artist to a pitch I made to her about The Further Adventures Of Indiana Jones. Ultimately I took over editing that book and could not use that pitch. But I could use Herb! I tried my best to exploit Herb, I got the strong impression that he was happy with his assignment when he could write, pencil and ink his own story. To say that Herb always seemed to have "one foot in 1939" would not be an exaggeration.
Time moved on, I left Marvel and next saw Herb at a comic con in the late 90s. It was a strange one in that it was whipped up to fill a sad vacuum caused by the loss of the very big New York Comic Con. Also, it was held in a huge but airless church basement. We were all staggering around in stifling heat and there was Herb! This was the first con he had done in a long time. Marvel had changed a lot in the decade that fell between Herb and I seeing each other. In that time, comic work had dried up. In a master stroke of sublimating frustration, he had written and illustrated a New York Times Arts & Leisure Section article about his experience during this "dry patch." Using his diary, he writes far more compellingly than I could; alas, this archived article doesn't seem to have the art:
http://www.nytimes.com/library/national/010900edlife-56-edu.html
To make ends meet, Herb became an art teacher. Those kids didn't seem to know what they had! When I found him in that "basement con as oven," he was just getting into that. We agreed to meet up. Herb and I had model-building in common. By the time we actually did meet, he was out of the teaching game, a bit disillusioned. During our first meet-up, he brought a jump-ramp aircraft carrier he was modifying, scratch-building a whole new deck. We spent a lot of time talking about "alternate history" fiction. There is a fantasy world out there, new when we got re-acquainted, about WWII going on a little longer. Time enough for many of the "wonder weapons" to be developed and fielded. The genre is called "Luftwaffe '46" and a little later, Luft 47.
Coincidentally, I had started a small model-centric business with one of my products being a German designed spaceplane, co-opted by the Nazis as a vehicle that could deliver a bomb to America! So we had lots to talk about. Not that long ago, I put together a model for fellow comic mainstay, Walt Simonson. Another "America Bomber" last-ditch war effort that never left the blueprint. I scratchbuilt many new pieces and Herb and I had a lot of fun going over those details.
I had just seen him only a few weeks ago. He had brought his latest Luft 47-inspired creation. An unusual push-pull plane that had actually made it to production and flight during the war, Dornier's Do 336 "Arrow." But for Herb, it had been used by the Kriegsmarine service and was finished in those colors:
Canopy off, close up of Herb's Do 336 cockpit. This shows his beautifully finished interior. Also the fine wire used to replace the kit parts for the antennae.
Herb used a brush to get this eggshell finish, very hard to do. We compared "old man" assessments of our hands and eyesight. A mutual friend, Charles Barnett, had picked up inking a recent job for Herb, where Herb had left off. I had seen the pages and was agog at how fine and steady the inked line was. And Charles, of course, had to match that. Herb had painted the windscreen framing by hand.
The laugh we had over eyesight was that Herb managed to find a 3X pair of glasses at Walmart and a 2X pair of glasses at the Dollar Store and wore one on top of the other to see better!
We both had a very good time. We did not notice that 4 hours had slipped by. When a new waitress came by to ask if we needed any refills, was when we realized a shift change had occurred. We thought we'd do it again.
I already miss my pal.