DC Comics Gotham City Map Story
This post currently has no comments.
Page 3 of 4
From the previous page:
I was also handed what I believe was Jordan Gorfunkle's personal copy of the "No Man's Land" plot rundown and cross-overs.
Not long after that, I got a huge list of place names from one of the big talents in comics, Chuck Dixon. I absorbed that creative and accommodating list of names — a good list like that makes my work much easier. I started sketching.
This was done at breakneck speed (for me!) probably within a week.
I finalized my version of Gotham City's place name notes, tightened up the sketch of the Gotham City map and faxed them off to the DC Comics office (in those pre-internet days … ).
| | | |
| --- | --- | --- |
| enlarge image | enlarge image | enlarge image |
Now, I will bare all here and reveal that I cannot stand for toe-nail-paring nutlogs like editors to ask for changes in my work. That sounds a little harsh, but consider a couple of things; If they provide me with enough information, the correct information, I cannot help but give them something that will "do" what they want. I add things that give the greatest range of possibilities and leave enough things blank or vague — and this is true of most of my work, not just maps or city design — to allow any writer to dive in and swim around. If they choose to use it so. And this brings up the main point. As hard as I might try to follow the word of every writer that has written, or artist that has drawn and yea, every editor who has thought about the subject — a new writer will come along and decide their way is better yet.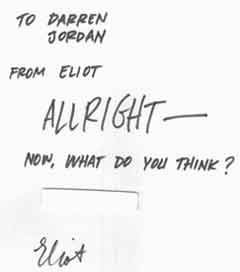 What I "mean" mean is that if they want changes after I have digested all the reference they gave me, then they haven't given me everything they should have.
I explain all this because the tone of this fax cover page, dated 7/10 [1998], (right) to the DC Comics office is a little testy …
This draft of the Gotham City map (left) is dated "7/10" [1998], so I must've been really flying. The map had been sent back to me with notes in black ink — I called, made further notes in red ink, made the next draft (below), and sent it all back to them to chew over.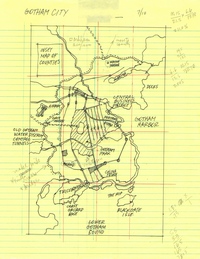 Next — Page 4:
Finally, whatever passed for approval was given, because I finished the Gotham City Map fairly quickly.